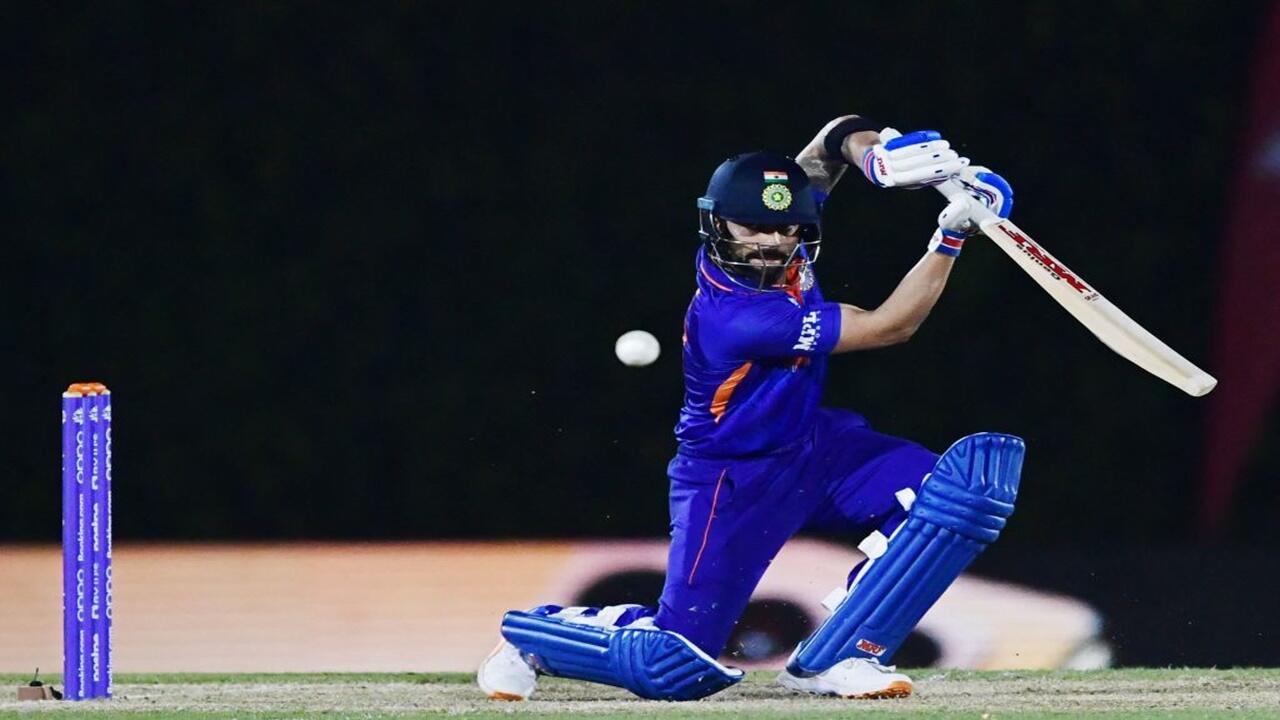 Has there ever been a more dramatic decline witnessed of a so-called great player than Virat Kohli?
A man who has almost deity status in India is on such a long and torturous run of bad form that even the most ardent of believers are beginning to question their commitment.
Currently he is only a poster boy to those who state that the maxim 'form is temporary, class is permanent' is garbage.
Kohli hasn't scored a century in any form of the game since November 2019. That's 116 innings. Now consider this tweet from Kevin Pietersen this week:
"You want a fact? Every single great of our game has been through what Virat is going through. Want another fact? They all get through it and deliver on the big stage again…"
Pietersen, hardly renowned for common sense, is surely talking nonsense. Every single great of the game has not gone through the sort of collapse in runmaking that Kohli has. This is such a prolonged and calamitous sequence that even sources inside the BCCI have been quoted as saying that India may need to move on.
Indeed, I'd wager none of these 'greats', that Pietersen references has (putting aside for the moment the definition of great is subjective) suffered anything remotely similar.
Therein lies the problem. Perhaps Kohli, whisper it, is not a great. It is an important realisation us punters need to come to. There are gamblers out there who listen to Pietersen, among many others, and reckon Kohli will come good. Yet he is the ultimate example of a player priced on reputation, personality, hype… call it what you will; instead of the cold, hard data.
If you had backed Kohli at average odds of 11/4 for top Bangalore batsmen in each of their matches in the last three tournaments (including this one) to £10-level stakes you would be staring at a loss of £127.50. He now has a win rate of 17.3%, more in line with a 9/2 shot.
If you had backed Kohli at average odds of 5/6 for more than 24.5 innings runs in the last three tournaments (including this one), to £10-level stakes you would be staring at a loss of £61.
If you had the misfortune (or severe case of the sick super fan) to have combined both markets this season to £10-level stakes you'd be down more than £140.
These numbers are two things. One not deserving of the prohibitive odds on offer and two, surely not close to being called great.
On almost every metric, Kohli is a disaster in this IPL. These are his scores so far: 9-0-0-12-1-48-5-12-41. Even excusing the embarrassment of being compared to opening bats or lower-order finishers, Kohli is still red faced.
By filtering his performance compared to his fellow No 3s in the tournament (4 innings or more) Kohli comes bottom on boundary percentage.
Given the modern obsession with boundary percentage, Kohli's return of 11.3 is particularly damaging. It is significantly worse than players in his position.
No 3s boundary % in IPL 2022
Samson 29.8
Brevis 26.2
Tripathi 25.6
Shreyas 20.6
Rajapaksa 25
Bairstow 17.9
Moeen 15.7
Pandey 12.3
Kohli 11.3
He is also second-bottom for batting average and third-worst for strike rate. Before the tournament began Kohli had the worst boundary percentage of any of the prospective No 3s in the last two years.
What Kohli does individually (in terms of runs or losing us money) is one thing. The consistent cost to his franchise is something else.
Bangalore have never won the IPL. And with Kohli in their team they may never win it. They are on the drift to 8.615/2 after the rest of them caught the Kohli bug and were rolled for 68 against Sunrisers.
With Bangalore splurging so much of their budget on their superstar, they have a dearth of Indian domestic batting talent to replace him. Kohli has to play because Anuj Rawat and Rajat Patidar, two potentials, have just not cut it.
Hell, maybe Bangalore win the title and Kohli, somehow, scrabbles together a score or two. And as soon as he does Pietersen will be back on your timeline saying 'told you so'. Don't fall for it. Ignore the hype. Check the data.